About Us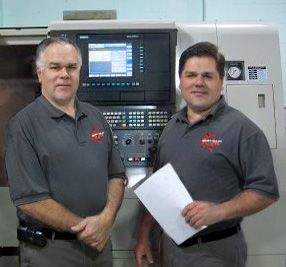 The history and shape of the standardized precision mechanical components industry is closely tied to one man and to one family. Mr. Winfred M. Berg is widely considered to be the Father of the Precision Mechanical Components Industry.
Prior to World War II, there was little standardization among small power transmission components. Design engineers were frustrated, having to first design, make mechanical drawings, specify materials and locate capable machine shops to build the components, before they could build their machine. Win Berg changed all of that.
Mr. Berg developed a selection of precision gears, categorized by pitch and configurable by bore, face thickness and quantity of teeth. Design engineers were now able to select a gear to fit their designs requirements. Winfred further revolutionized by adding shafts, bearings and other mechanical components to his product listing, all designed to function together. Winfred M. Berg then founded PIC Design Corp and the industry of "standardized precision mechanical components" was established.
In 1965 Win Berg sold PIC Design to pursue a political career. After a successful jaunt in local politics, Win realized his true desire was engineering. Along with his son Dennis, they founded Winfred M. Berg Inc. Together Winfred and Dennis recreated the business model of PIC Design but added many patented items that they developed for the precision mechanical and motion control industries.
One of the inventions was the critical drive chain used on the Gossamer Condor man powered flight in 1977. Two years later the human powered Gossamer Albatross crossed the English Channel using the Berg patented chain.
The W. M. Berg, Inc. company was eventually sold. Win Berg retired and Dennis Berg remained as President and Chief Engineer for 10 years. He then decided to build a new company, Rino Mechanical Components, that focused on customer service. This concept, a hallmark in the early days of W. M. Berg, Inc., had been lost by the new owners of the company and replaced by focusing on profits at any cost.
In 2011, the company cemented its international presence and decades-long family friendships with long term supplier, Ondrives, Ltd., of Chesterfield England, synergistically becoming Ondrives.US Corp. Both companies benefit from expanded markets and a broader range of products.
The Berg family has been the driving force and an integral part of the standardized precision mechanical components industry since its inception in 1954. Dennis Berg remains involved in this vibrant industry as the CEO of Ondrives.US Corp., bringing over 50 years of experience and knowledge to the business.
The company's stability and continuance is assured as Lee Berg has assumed the role of President of Ondrives.US Corp. Lee Berg worked at both W. M. Berg, Inc. and Rino Mechanical Components, taking an ever-expanding role in manufacturing and company management. Lee Berg grew up in the industry working first with his grandfather Win Berg and later with Dennis.
Today, Ondrives is an industry leader and innovator, producing and distributing a vast array of gears, gearboxes, ground shafts, shaft couplings, fasteners and many other precision machined products. Application engineers are available to assist our customers in selecting the best component for the project and design engineers that can design a gearbox or component to satisfy your needs.
Manufacturing
Ondrives, Ltd operates a world class manufacturing facility for precision machined products. Approved by Lloyd's Register Quality Assurance to both Aerospace standard AS9100 Rev D and BS EN ISO 9001:2015, they operate state of the art manufacturing and inspection equipment.
Ondrives.US has a broad selection of manufacturing equipment in Freeport, New York including gear hobbers, gear shapers, CNC vertical mills, bar fed CNC lathes, laser engraving, CMM inspection and secondary machines. See our facilities list.
Engineering and Design
Ondrives employs application engineers to assist our customers in the selection of the best precision machined products for the application. If the project requires a custom product, our design engineers will create a solution to meet the customer's specifications. Two dimensional drawings of 3D CAD models can be supplied for the customers' approval prior to production.
Quality Control
Ondrives has a strong commitment to the quality and constant improvement of our precision machined products. We are ISO 9001:2015 certified.
Our Mission
To offer cost effective solutions, expert service and timely delivery for our customers mechanical components needs.
Ondrives is a leading manufacturer and distributor of precision mechanical components and assemblies. With an extensive knowledge and experience in the design and application of mechanical components we can assure our customers the very best selection of products and services, at competitive prices.