Custom Clutches
Precision clutches are mechanical devices that engage and disengage power transmission systems to transmit torque. Clutches are actuated using manual, mechanical, electric, hydraulic, or pneumatic methods and feature adjustable or fixed drag torque for use in various shaft to shaft and shaft to component applications.

Mechanical clutches provide a simple mode of actuation in mechanical drive systems and are used in a variety of applications, including:
Overrun devices
Hinge position
Indexing
Overload protection
Tensioning devices or drag brakes
Torque limiters
Precision Clutches Customized to Your Specifications
Ondrives.US offers hundreds of standard mechanical clutch options, but, because every application is different, an off-the-shelf clutch may not be the right solution for your specific mechanical requirements.
To that end, we offer custom precision clutch components built to meet your requirements. We have the engineering and manufacturing capabilities to create a high quality, high precision clutch components that are perfectly tailored to your application and performance needs.
Considerations in designing the right custom clutch for your application include: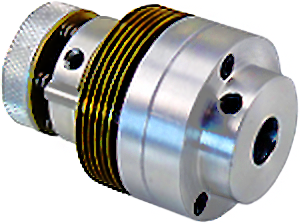 Drive and load connection type
Maximum speed and power ratings
Shaft configuration
Torque rating
Request a quote
on a custom clutch, or
contact Ondrives.US
to discuss your design requirements. See below for customizable options.
The Ondrives.US Advantage for Mechanical Clutches
Ondrives.US manufactures custom clutches in inch or metric bore sizes, with any bore-to-bore combination available with the min/max limit. Customize your precision clutches based on the following specifications:
Clutch type: component mount, misalignment, vertical thrust capable, low backlash, pneumatic, or shaft-to-shaft
Material of construction: aluminum/steel, brass/nylon/aluminum, or steel
Housing material: aluminum, nylon, or steel
Clamp style hub or set screw hub
Max. drag torque: from 0.04 in/lbs. to 750 in/lbs.
Choice of adjustable or pre-set torque
O.D. (outside diameter): specify in inches or millimeters
Overall length: specify in inches or millimeters
Our Precision Clutch Components Are Engineered to Last
Ondrives.US' clutches are engineered for long working life—up to 30+ million slip cycles. Additional features that come standard with all our custom clutches include:
Permanently lubricated
Bi-directional
Available with non-standard bores, keyways, torques, and other features
Stringently exacted tolerance adherence
We also offer
custom shafts
and a full line of
bore reducers
to help you create the perfect system for your application.
Request a Quote for Modified or Custom Precision Clutch Components
Ondrives.US is a precision gear and drive component manufacturer offering standard friction clutches and drag brakes for synchronous motion applications. Request a quote or contact Ondrives.US for the custom mechanical clutch you need.